História spoločnosti DOMO GLASS
Sme DOMO GLASS, teší nás
For more than 25 years we have been developing, producing and realizing most diverse construction and furniture elements made of sheet glass. Our products uniquely merge materials of exceptional  quality, innovative solutions and nobleness of glass.
Whatever you want to know about glass, you can either find your answers here, or write to us for information and we will inform you back.
1994
Company owns her first red van, a Ford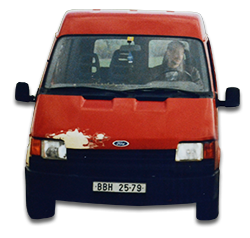 1995
Production unit moved into the industrial area of Smrečina company, with just 5 production employees
1997
First co-operation with Globtel Telephone Company (now Orange), co-operation is still running
1999
Mr Roman Miartuš enters company, in position of the manager, transformation of the focus of activity to work with construction glass
2000
Collaboration with German company Ekotherm, insulation of old windows using insulating double glass sealed units
2001
Establishing our administration and storage premises in Bellušova St., Banská Bystrica
2002
Attending For Arch 2002 Exhibition Triple growth of production and realization o frame-less structures: doors, walls, staircase balustrades, parking walls, glass flooring and shower units
2003
Certification of the company under STN EN ISO 9001:2000 and implementation of quality management into production Purchase and renovation of production plant, workshops and storage premises
2004
Purchase of premises in Zvolenská cesta, Banská Bastrica and building a production unit for sheet glass processing
2005
Attending the exhibition Nábytok a bývanie 2005 (Furniture and Housing), collaboration with the German company Pool Agentur in production of interior glass furniture
2007
Mr Jakub Miartuš enters the company
2008
Combination of our own capital and European Funds grants to expand the production unit – purchase of laminating furnace, compressor plant and glass grinder to treat flat trapezoidal edges
2009
Increase of sheet-glass processing by 30%
2011
Beginning of collaboration with Technical university in Zvolen, Department of Furniture Design and Wood Products
2012
Working on development and support of new products
2013
Attending CONECO 2013 Exhibition
2014
Creating design of new collections of patterns and accessories
2016
Launch of a new modern website with an e-shop of our standardized products.
2018
Transformation of the production part. Expansion of production with a locksmith workshop.